Furoshiki are perfectly square, rather large traditional wrapping cloths usually made with quality fabric that come in many beautiful designs. A great Wikipedia article on it
here
.
I have come to know about them mainly for carrying gifts and bento boxes but only recently discovered that its use can be so much more.
What about a watermelon?
(image:
jiyuseki.jugem.jp
)
Pictorial how-to's
here
and
here
.
Ok maybe a bit out of season but it would still be handy for a hand-carved pumpkin to your friend's Halloween party. Also way cool to carry your custom
Brunswick
in one of these to a bowling tourney for sure.
Instead of buying one of those tall overpriced gift bags for your gift bottle of wine why not wrap it in a Furoshiki instead?
(image:
city.hikari.lg.jp
)
Wrapping two bottles
isn't a problem either along with books, rolled posters and for heavier objects even a shoulder carrying type. All shown below.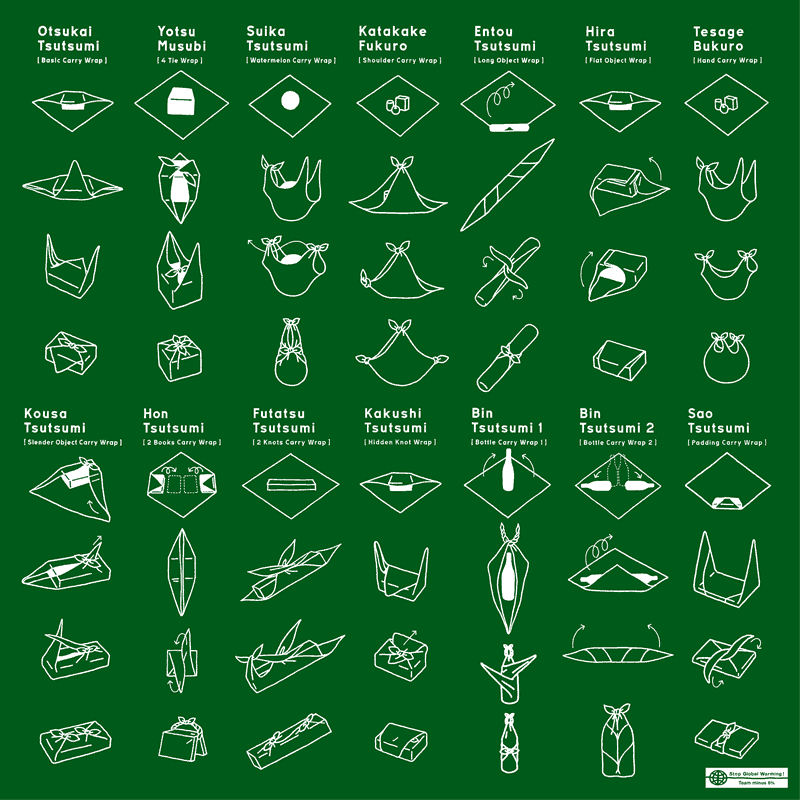 The renewed interest for the Furoshiki recently in Japan has been great and is even endorsed by
their Ministry of the Enviroment
which seems to have commissioned this
all-in-one how-to-furoshiki illustration
. Of course designed square to be a perfect Furoshiki print itself. Dowload a PDF version
here
and read about Minister Koike's "Mottainai Furoshiki"
here
.
Many how-to Furoshiki vids on YouTube
here
.
Neat. Now if I can only find my
Karakusa Patterned
one I bought years ago...